How To Wash Sweaters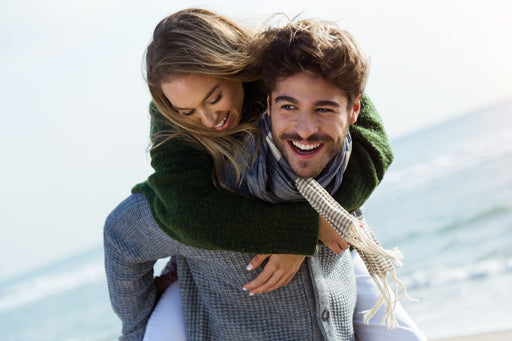 As temperatures shift from freezing to blazing, you stop piling on the woolly knits and pullovers and go in search of lighter garments. But before you start packing up your favourite winter sweaters, make sure you wash them. The last thing you want is to pack up a perfectly good knit top then unearth it next autumn and find it covered in stains or chewed up by clothes moths.
Caring for your woollens, though, can be problematic. You can't just toss them in the washing machine like other clothes, because in spite of that thick fabric, most sweaters are delicate. You will need to check the care instructions, and be careful how you dry and store them. Luckily, we've got the tips you need to keep your pullovers in tiptop condition for many years to come.
How Often Should You Wash Your Sweaters?
The rule of thumb for washing sweaters is every 2-5 wears, unless your pullover is dirty. Certain fabrics can be washed less because they are more durable than others, like synthetics or wool, for example. Below we will guide you through multiple ways on how to wash a sweat to get the best results.
Always Read the Care Label
You're probably ready to start washing your sweaters right away, but there's something vital that you need to do first. Even if you're not washing a premium cashmere sweater, you still need to read the care label. Otherwise, you might miss an important detail and end up with a ruined garment.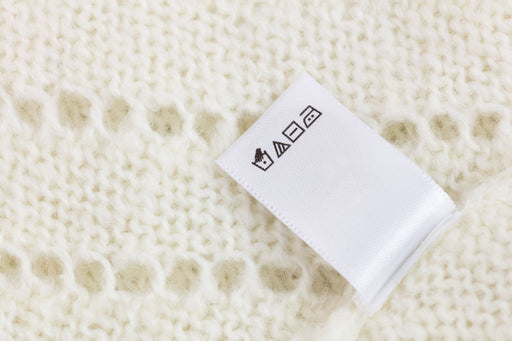 If your sweater has a label that says Dry Clean Only, then you should without a doubt take it to a professional. Yet, if the label states that drying cleaning is recommended, you can get away with either hand-washing or machine-washing your sweater. Similarly, if the item stays Hand Wash Only, don't throw the pullover in the washing machine.
Ignoring the care instructions is the fastest route to destroying your favourite sweater.
How to Hand-Wash Sweaters
Sweaters need to be handled gently when being washed. Yes, hand-washing could prune your fingers, but the result—and longevity of your favourite pullover—is worth it. Please note that washing cashmere sweaters requires a different method. The way we describe below is best used with wool blends, chenille, cotton, and acrylic.
Follow these steps:
Begin spot-treating. You can use a small amount of stain remover and dab at any noticeable spots. Rinse the stain thoroughly before continuing with the wash.
Fill a plastic bucket, tub, or sink with cool water. Never use hot water, due to the damage it could cause your garment.
Pour ½ teaspoon of either a gentle detergent or wool wash into the wash basin. Avoid overusing the detergent, since that will make your sweater scratchy and stiff.
Lower your sweater into the water, letting it soak for a moment. Then agitate the water with your hands. Put on rubber gloves and squeeze the material lightly, letting the water work into the fibres. Never scrub or wring a sweater. You'll get pilling and stretching.
Let the sweater soak for another 5 minutes.
Rinse thoroughly until the fabric is free of soap.
Remove your pullover from the water and place it on an absorbent towel. Lay it flat. Roll the clothing up with the towel. Squeeze again.
After removing excess moisture, unroll the sweater from the towel and start gently reshaping it. Pushing the ribbing together along the wrists, waist, and neckline.
Let your knits air dry for 24 hours.
How to Wash Sweaters in a Washing Machine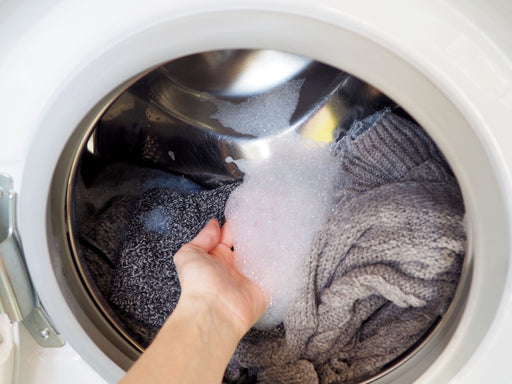 If you want to keep your hands from pruning, you can opt to use a washing machine. To do so, you are going to need a trusted mesh laundry bag to protect the delicate fibres of your pullover during agitation. When loading up the washer, avoid putting bulkier items like towels and denim jeans in with your sweaters and delicates.
This is riskier than hand-washing, so make sure you follow these steps exactly:
Treat the stains on your sweater.
Place your knit clothes in separate mesh laundry bags. This prevents pilling and snagging in the washer.
Set the water temperature to the coldest available. Warm water causes natural fibres and even some synthetics to fray; hot water causes materials like wool and cashmere to shrink.
Choose the gentlest cycle, such as Delicates or Permanent Press or the Hand-Wash cycle. If you own a top-loading washing machine, begin the cycle, and let the basin fill with water before putting in your sweater. Add the detergent then submerge your pullover. For front-loading machines, put in the detergent, then the sweater, and then begin the wash cycle.
Do not select spin. Skip that part of the wash.
Once the washing is done, gather the pullover and ball it up gently. Do NOT wring the garment. Just squeeze out some of the water before transferring the sweater to a towel. Lay it flat. Roll the clothing up with the towel. Squeeze again.
After removing excess moisture, unroll the sweater from the towel and start gently reshaping it. Pushing the ribbing together along the wrists, waist, and neckline.
Let your knitted items air dry for 24 hours. 
Should Sweaters Be Washed Inside-Out?
Yes, do it! Washing a sweater inside-out gets into the areas that aren't usually washed, such as the armpits. The detergent and water will be able to work out invisible stains that a spot treatment may not have reached completely. Also, any graphics or embellishments that are on the front of your clothing are protected when you turn the item inside-out.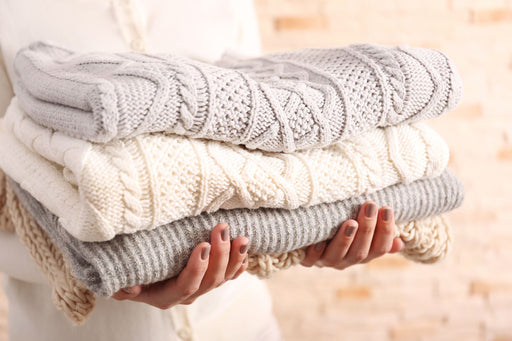 How to Treat Stains on Sweaters
Spotted an old stain that you didn't know was there? Don't worry. Your sweater isn't necessarily ruined. Sweater cleaning to the rescue! All you have to do is treat the stain. You can first try flushing out the stain with some water, but if it is more stubborn, you may have to blot at the patch with white vinegar. Let the vinegar seep in for a few minutes before flushing the stain again with clean water.
If the stain is lifted, grab 3 percent hydrogen peroxide. Let it sit on the stain for a couple of minutes then wash the area with water. Afterwards, use whichever washing method you prefer. The stain should be gone or at least less noticeable than before.
Can You Put Sweaters in the Dryer?
Putting a sweater that is made out of wool, cashmere, silk, or a blend of natural fibres and fur in the dryer is never recommended. The reason is the heat that would damage the material or cause shrinking, pilling, or wear and tear. Therefore, the best way to dry a sweater is to air dry it.
Once you have finished hand-washing or machine-washing your sweater, you should never wring it out. The fibres could be stretched and damaged that way. The safer option is to grab your knitted garment and lay it flat on an absorbent towel (preferably one that doesn't make lint). Roll the sweater up with the towel then gently squeeze. The excess water will be removed.
Secondly, never hang your sweaters to dry them. Like popping your pullovers into the dryer, hanging a wet sweater could stretch out the material, which you don't want. You can find plenty of drying racks for sale, including pop-up versions, so that you can lay your sweaters flat to air dry.
Wrapping Up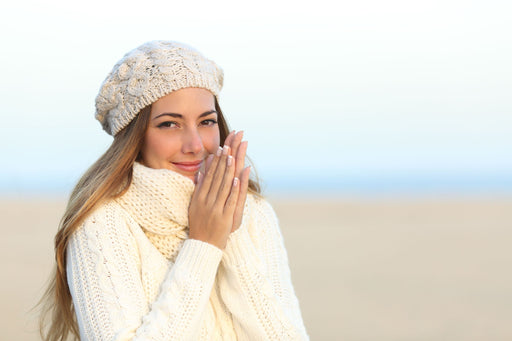 Keeping your knitted pullovers fresh and clean is easy when you know what to do. Cold water when hand-washing or machine-washing, air drying, and laying the garments flat—never wringing—is the best way to go about it. Do that, and your favourite sweaters will last for a long, long time.
About MothPrevention®
MothPrevention® speak to customers every day about their clothes moth issues - clothes moths are a species that are ever increasing and that can cause significant damage to clothes, carpets and other home textiles.
To date, we've helped over 150,000 customers deal with their moth problems. We have developed professional grade solutions including proprietary pheromones engineered in Germany to the highest production standards.