How To Manage Your Spring Season Wardrobe Changeover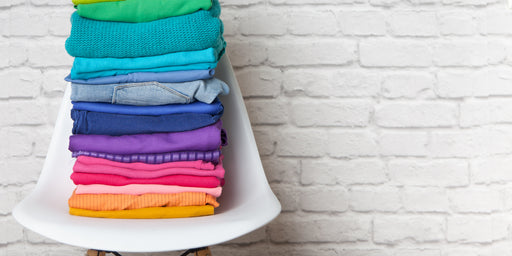 The Ultimate Spring Wardrobe Changeover Checklist
Repair and clean clothes for winter storage before spring arrives
Clean everything in your closet from top to bottom, especially if it's a natural fibre textile destined for long-term storage
Choose storage conditions and products that protect clothing from exposure to pressure damage, light, heat and damp
Replenish and refresh your moth prevention products, such as non-toxic clothes moth pheromone traps
Thoroughly declutter your closet by sorting what to keep, toss or donate
Choose an organizational style that best suits your spring wardrobe
Use labels to make identifying where each type of clothing should be placed easy
Set a calendar reminder to air out stored winter items every few months
With the change in season comes the need to reevaluate what you can change about how you organise your closet and what your wardrobe has to offer you for the spring months. A few common practices and an insider tip or two will have your closet ready for the seasonal shift in no time.
Get to Know Your Local Weather Patterns
As the winter months wind down, it's time to think of what you plan to keep in your wardrobe's rotation and what you'll want to store for the spring and summer stretch. Depending on where you live, your spring season may still see snowy days and cool nights, so you should keep clothes that layer well on hand.
Spring showers are common in many climates, which means waterproof gear that serves well against winter storms will hold its place in your closet for a little longer, too. If this is your first spring in a new location, you may want to look up weather data for the last few years to see if the area has a reputation for surprising temperature drops or heavy storms throughout the season.
With winter receding and summer ascending, spring months for most people can often be unpredictable and prone to see-saw changes, which makes planning a balanced and functional wardrobe all the more difficult. Hold off on packing away pieces like lightweight wool cardigans or silk-lined blazers in case you need their extra warmth. This can save you from scrambling to dig out those favourite coats or thermals that you thought were safe to store until the next cool season starts up.
Embrace the Spring Cleaning Spirit
Spring cleaning is more than just making sure you chase out the dust bunnies and give everything a thorough wipe-down. It also means taking a little extra time to dig into the nooks and crannies of your closets to make sure they're not an inviting breeding ground for clothes moths. With warmer weather comes many of nature's miracles, but the mating habits of clothes moths are far from a welcome surprise for your natural fibre and luxury garments.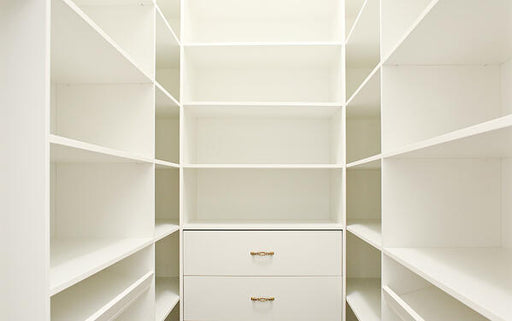 If you're already in the habit of using cedar blocks and lavender sachets in your closet, now is the time to replenish and renew them. The essential oils that make these natural moth repellents effective fade with time. Once you've completely cleared out and cleaned all the surfaces and drawers in your closet, chests and trunks, you can toss in new cedar and lavender repellents for a fresh start.
Make sure your clothes moth traps are in place and buy clothing moth trap refills if needed - this is your first line of defence to prevent a new moth infestation.
But don't stop there — the number one most important step in preventing a springtime infestation is to wash your winter weather wear thoroughly before it goes into deep storage. Moths consider the proteins in remnants of organic matter, such as sweat stains, skin and hair cells, a gourmet delicacy. Natural fibres like silk, cashmere and other types of wool are porous and cling to any scrap of these proteins with a desperate will.
Even if a garment looks clean at a glance, it's best to send every piece through a thorough wash and careful drying process for best prevention practices. Dry-cleaning uses powerful chemical solutions that can break down these proteins effectively, but hand-washing at home with silk or wool-safe detergents can do just as good of a job if you follow the right steps. Look to any of our step-by-step guides for hand-washing natural fibre garments like silk or cashmere to learn more.
The Importance of a Seasonal Changeover
Aside from the obvious goals of keeping a tidy closet and preventing moth infestation, a seasonal switch for your wardrobe helps your clothes last longer and keeps you from overspending on new clothing purchases.
Rather than keeping all of your clothes scrunched together in the closet, you give your spring wardrobe a chance to breathe without the chunky, heavy cold weather items crowding them. And, organising your clothes by season helps you see where you have an abundance of one type of clothing and what you may lack in other areas.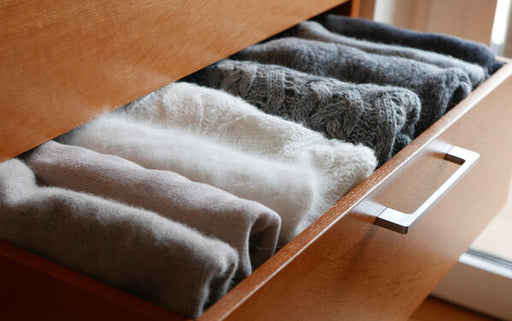 The weight and thickness of a garment isn't the only thing that determines what season to where it, however. The cut, design and colour of clothing can also make it more appropriate for one season than another. Dark jewel tones and high-necked or long-sleeved items naturally suit an autumn or winter wardrobe better than a spring or summer one.
As you go through your clothes and accessories with an eye for storing what you won't use during spring, think about any special occasions you may need to attend. Spring is a popular time for weddings and family celebrations. Flowing dresses, crisp linens and light cardigans are all springtime favourites for formal and casual events.
Declutter Before You Choose an Organizational Style
Organizing your spring closet won't be as effective if you're hanging on to old and worn out pieces that you won't be wearing any time soon. It can be hard to let go of some garments that hold sentimental value, so consider your options carefully. A special piece may no longer work for you, but gifting it to a close friend or loved one can breathe new life into the garment and still allow you to appreciate its use.
Shedding items that have lost their value or use will also help you refresh your wardrobe thoughtfully when it comes time to purchase new pieces. Making room in your closet before you buy new clothes prevents overcrowding and mess. Don't leave it for after you've come home with your shopping bags to create space for those purchases or else you run the risk of putting it off for too long and forgetting about it or running out of time to organise everything properly.
Some people find decluttering their closet is easier if they empty it out entirely and sort through a pile of items piece by piece, deciding whether to keep, toss or donate as they go. Those who have limited space or a small closet may prefer to just shuffle through everything one by one, instead.
Whichever way you choose, trust your instincts and move quick enough that you're not labouring over each choice for long minutes. One of the best ways to tell if a piece of clothing truly belongs in your wardrobe is how easily you can see yourself wearing it the moment you touch it. If you find yourself making excuses as to why you can't wear it right away, such as nothing matches it or you don't have the right shoes or accessories to wear with it, chances are it's not a good fit for your wardrobe.
Decluttering is also an excellent time to go over every piece of clothing to check for anything that might need mending or that's too damaged or stained to repair. If a piece is destined for storage, repair it before packing it away so it's ready to wear when the next seasonal shift comes along.
Storage Tips for Delicate Winter Wear
Before you toss every piece of your winter wardrobe into a box and shove it out of sight, let's go over some important facts about the best way to store certain items.
Winter is a popular season for some of the most expensive textiles, such silk for dresses and coat lining and cashmere sweaters and thermal wear. Natural fibres can become damaged easily when they're improperly stored.
When in frequent rotation, silk stores best by being hung from coated hangers. The coating, usually made of velvet or velvet-like material, keeps the fabric from slipping off the hanger and protects it from becoming misshapen by the hanger form. However, storing silk pieces for the long-term may require the use of a zippered storage bag and tissue covering.
For cashmere and merino wool garments, hanging them for even a short amount of time can cause the fibres to stretch or break. Whether it's the season for these garments or not, they should always be folded rather than hung. This requires a little extra attention during long-term storage. Acid-free tissue paper can be used between folded layers to prevent friction or pressure damage. A zippered hanger bag that allows the garments to breathe will also prevent damage better than one made entirely of non-breathable plastic.
With any of these garments, unseen issues can arise even when stored in the best of conditions. Even when they've been stored after fresh laundering, deeply set perspiration stains can begin to yellow with time. This can be tackled easily if you're taking items out of storage to check for these issues. Silk and wool-safe stain removers can help you restore the look of your garments and reduce the chances of moths finding something to snack on when you're not looking.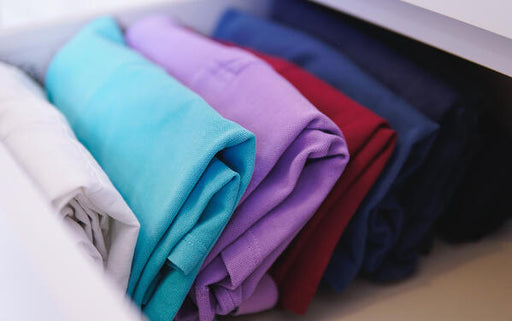 Spring-friendly Organizational Methods
We've explored different methods to organise your wardrobe in detail before, but there are many configurations that can work when you're attempting an in-season shift. Changing out a wardrobe according to season is just one way to set up a closet space; there are many other methods that can be used in conjunction with the seasonal approach.
Department
This is the most conventional way to sort a closet no matter what the season is, so many people default to this style of organization when they aren't sure what else to do. With the department-style organizational method, clothes are grouped together much like how you would find them in the store: tops, bottoms, dresses, outerwear, accessories, etc.
With a spring-themed wardrobe, this works well for people who have a lot of separate pieces that can be coordinated together in a variety of ways. You can streamline your process even more by organizing each 'department' of clothing by sleeve length for tops or hem length for bottoms and dresses. The most common way to sort from there is from shortest to longest.
Capsule
A capsule wardrobe is a favourite among minimalist enthusiasts and fashionistas who prefer a tightly curated collection of clothing each season. The main draw of this organizational style is the way it simplifies the process of getting ready each day.
For those who have the space, they may use a stand-alone hanging rack for their seasonal capsule pieces and maintain the bulk of their wardrobe in a traditional closet area. Others pare down their existing closet to hold just the items they've selected for that season. Spring is a great time of the year to make use of a versatile capsule wardrobe. The use of layers is common for capsule organization and the varying temperatures of springtime often necessitate layering throughout the day.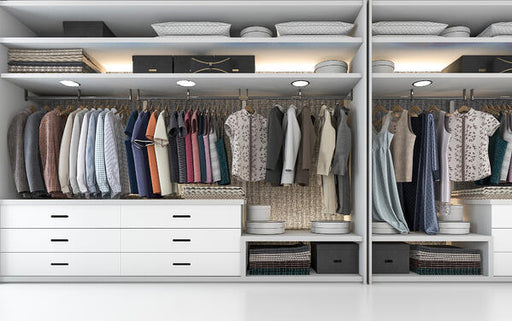 Occasion
This organizational method is best suited for those of us who have distinct demands on the way we dress for work and play, especially when the lighter spring-appropriate ensembles aren't exactly what we call 'business casual'. If your job requires a formal uniform or a very specific style of clothing, you may benefit the most from arranging your springtime closet according to your responsibilities and social expectations.
You can make this method easier to work with by using labels that clearly describe which clothes belong to what sort of occasion. This makes getting ready for work or dressing up for a night out a cinch. Being clear about which pieces of your wardrobe belong where can save you major headaches in the future, like rushing around looking for the one work-appropriate skirt you need, only to find it was worn earlier in the week for a night out with friends.
Colour
Spring presents a lovely time of the year to organise your closet by a colour-coded order. The soft pastels and bright whites that bring to mind a newly budding garden never go out of style for springtime wear. Flirty prints and fresh patterns are also ready to explode out of the winter doldrums and celebrate the coming warmth of summer.
You don't have to play by strict colour-matching rules when you organise your closet this way — you can mix it up a bit by pairing your favourite coordinating colours and patterns together so you can be sure you're making the most of your wardrobe options for the season.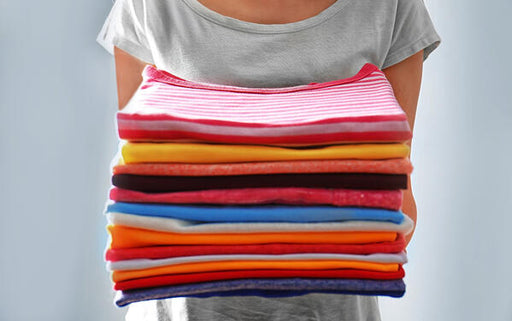 The Ultimate Spring Closet Changeover Checklist
Use these notes to help you speed through the process:
Repair and clean clothes for winter storage before spring arrives
Clean everything in your closet from top to bottom, especially if it's a natural fibre textile destined for long-term storage
Choose storage conditions and products that protect clothing from exposure to pressure damage, light, heat and damp
Replenish and refresh your moth prevention products, such as non-toxic pheromone clothes moth traps, cedar blocks and balls and lavender sachets
Thoroughly declutter your closet by sorting what to keep, toss or donate
Choose an organizational style that best suits your spring wardrobe
Use labels to make identifying where each type of clothing should be placed easy
Set a calendar reminder to air out stored winter items every few months
A total seasonal overhaul can take a bit of time, but it's not a complicated project once you know how to navigate the process. Once you get started, you'll see how great it feels to take control over your wardrobe and ready yourself for a new season of fashion and fun. 
Not spring season? Check out our changeover guide for fall.
About MothPrevention®
MothPrevention® speak to customers every day about their clothes moth issues - clothes moths are a species that are ever increasing and that can cause significant damage to clothes, carpets and other home textiles.
To date, we've helped over 150,000 customers deal with their moth problems. We have developed professional grade solutions including proprietary pheromones engineered in Germany to the highest production standards.