Making Space: Storage Ideas for Cramped Wardrobes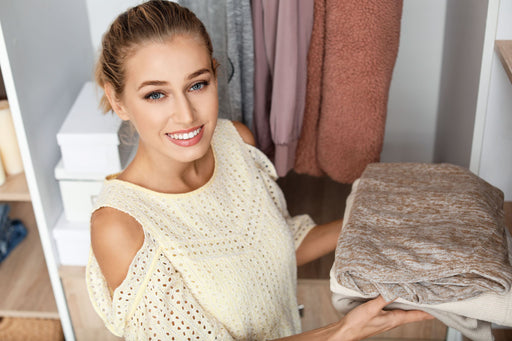 "Oh, I have so much storage space!"
That's sarcasm, by the way. Few people would ever say their wardrobes are too big, and most of us are stuck with cramped wardrobes that lack storage options. Maybe the building is an older construction, made for people who didn't have hundreds of tops, pants, and shoes. Or, perhaps the building is cheap and the builder decided to save themselves some money by leaving your wardrobe design until last, or not providing you with a built-in wardrobe at all!
Whatever the cause of your too small wardrobe, it is not something that you have to live with any longer. We have some solutions to make that tiny wardrobe feel like a walk-in. Okay, maybe we're exaggerating a bit, but these storage ideas for cramped wwill make your life a little easier.
Check them out below:
1. Don't Hang as Much Stuff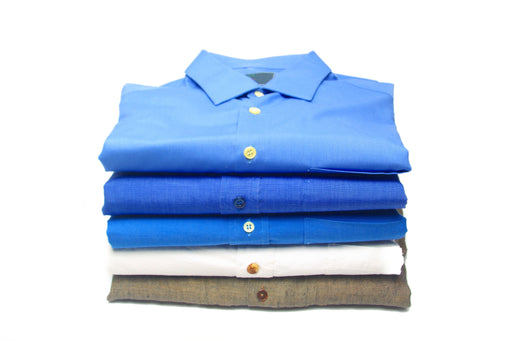 So many wardrobes come with a single clothes rod—and that's it. No shelving. No racks. Who has so few clothes that they can hang everything on a single rod? Even if you have only a couple of shirts, pants, and coats to your name, one rod is going to become so horrifically cluttered that your wardrobe will feel stuffed to the brim.
There's an easier way.
You can save up to twice as much space by folding up your shirts and bottoms neatly in drawers rather than hanging them up. That doesn't mean just folding stacks of clothing and plopping them down on the closet floor, either. Get yourself some garment boxes, storage bins, shoe racks, and shelf dividers to make designated spaces for your belongings. From there, you can begin to decide what goes where.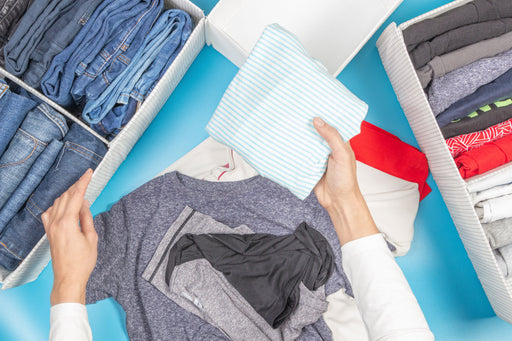 2. But Do Hang Sweater Organisers
You might be thinking, "But my wardrobe is too small not to hang stuff!" Okay, no worries. We have a wardrobe storage idea for you.
Get some hanging organisers for your bulkier items, like sweaters, sweater pants, t-shirts, and maybe a blanket or two. Since it is always better to fold your shirts, especially t-shirts, having them hanging up in the wardrobe is a great way to free up some space. Most hanging sweater organisers come with six tiers, though you may find some that are shorter.
Looking for places to find hanging organisers? The IKEA closet organiser is always a smart choice, but you may find wardrobe organiser at Amazon and other home improvement stores.
3. Grab Some Shelf Dividers
As mentioned above, shelf dividers are an excellent way to space out sections of shelving for folded garments. You can add shelf dividers to almost any kind of shelf, even ones in the pantry or bathroom. Shelf dividers can be snapped into place then act as a barrier between boxes, stacks of clothing, and other items. 
For instance, you might be storing some wool blankets up on the wardrobe shelf, but you also have several garment bags of seasonal clothing to tuck away. By separating them up with shelf dividers, the bags and blankets won't get bundled together or re-positioned as you move things around. You can do the same with rolled or folded towels and shoe boxes. 
4. Go High and Low
Cramped wardrobe might seem like they have little space to work with, but there is a solution for that: Install a wardrobe organisation system. For example, IKEA has a closet system called the PAX that allows you to personalise your small walk-in closet for a fraction of the cost of a custom unit. That said, you may even be able to design the whole thing yourself.
A wardrobe system works because it eliminates the need to hang everything from the same level. When you do that, you get too much dead space. The best way to add various levels to a wardrobe is to grab some heavy duty tension rods and make tiers. Put the longest items, like dresses and pants, at the very top so they can hang down. Then, you put shorter items, like shirts, blouses, and dress jackets on the next level.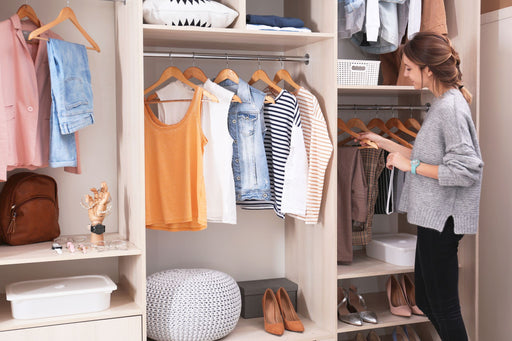 You can also add some drawers to the lowest portion of the wardrobe so you can fold up more clothes and keep the floor decluttered. If you do know how to install a wardrobe system, you can simply purchase some portable drawers—the ones with wheels—and use them to separate items further.
It's a great way to organise a small wardrobe without spending too much money.
5. Get a Shoe Organiser
Here is another of our favourite small space wardrobe storage ideas: the shoe organiser. You can use these practically anywhere—small wardrobe, apartments, pantries, walk-in closets, wardrobes. Anything that has a door, really.
Whether your shoe organiser goes over the door or is installed with hooks, the ample storage space is to die for. Oddly, we would never recommend hanging your shoes in a shoe organiser. Those are better kept in a shoe rack or shoe tower.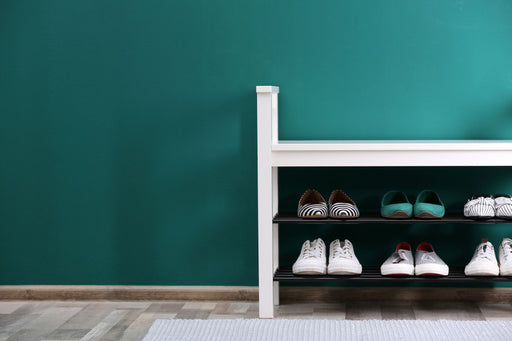 No, shoe organisers are better for accessories, like your knit hats and gloves, socks, lingerie, underwear, ties, makeup and toiletries, belts, and scarves. They are so multipurpose that you can get creative. If you get one with clear plastic pockets, you can see what is inside; but you can always put labels on fabric pockets.
6. Illusion of Space
While you cannot always resize a small wardrobe, you can create a convincing illusion. Here are three ideas for small wardrobes that you can try immediately:
Paint the space with a light colour and use a gloss finish. Light colours will brighten up the darker spaces of the wardrobe, making it feel larger. The glossy finish reflects any light.
Choose LED lighting for under the shelves, and pair the lights with glass shelving. As the light filters through the shelving from above, it will add a pleasant effect to the items lining the shelves while creating an illusion of distance. The wardrobe will feel taller.
Mirrors. You can install a mirror on one of the walls, which will not only give you a great place to check your outfit but will make the wardrobe appear wider.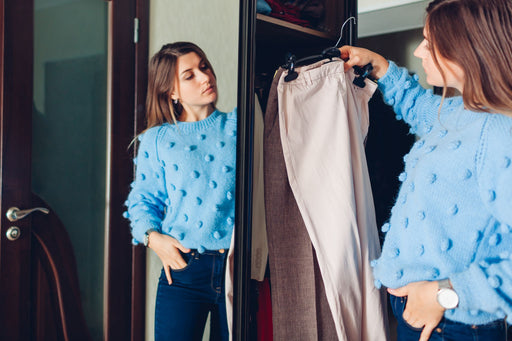 7. Find the Missing Link
Want to create more hanging space in your wardrobe without adding another rod?
Grab a sturdy chain and an S-hook then hang the hook from the rod, letting the chain dangle down. The links are the perfect size to hold hangers, and the length gives you plenty of room to layer shirts atop one another. If you space out the hangers correctly, then you will have several shirts hanging from one chain in tiers, but you will have used no extra space.
8. Try Out Modular Shelving
Have a lot of things that don't fit inside your wardrobe? You may want to think about adding a modular shelving system, also called an étagère. The shelves will be big enough for you to put some things on display, letting them double as decoration. You can mount the modular shelves to the door of your wardrobe or set it up alongside the door. Have a walk-in? Modular shelving will work in there, too.
And if modular shelving doesn't work at all, you can think about getting over-the-door shelving. There are also baskets and shelves that will mount to doors with nails.
9. Baskets in the Wardrobe
We have said it a lot, but you should never underestimate the usefulness of a simple basket. Wicker baskets look wonderful and can be used for accessories, shoes, workout clothing, undergarments, pyjamas, and even blankets, beach towels, and more. You can partner your modular shelving with wicker baskets and make a stylish (and organised) display that opens up space inside your wardrobe. 
10. Get the Right Hangers
Can the type of hanger you are using be wrong? Possibly. Hangers are used for all kinds of things and have recently been presented in all kinds of shapes. Slimline hangers or ones with non-slip materials are the best for your clothing. Slimmer hangers will be less bulky than wooden ones but more supportive than cheap wire hangers.
You should also consider getting S-shaped hangers for your pants and skirts, and get ring-shaped hangers for your scarves and belts.
11. Hook, Line, and Sinker
Worried the above listed hacks aren't going to work? Here is one of our foolproof storage ideas for cramped wardrobes. It will also organise your wardrobe in a blink of the eye. All you have to do is install hooks on the side walls.
You can use a drill for sturdier hooks or you can go the adhesive hook route. Either way, you are going to get tons of usable space. Hooks take up little space on their own, and depending on how much weight they are rated for, you can hang everything from purses, backpacks, accessories, shirts, belts, and so on.
Another option for hooks is on the cabinet door. You can add hooks to the front and back and at different levels. This is especially convenient if you have young children and want to put their belongings at a more reasonable level for them to reach.
12. Hit the Floor
Okay, so we have talked about utilising everything high within the wardrobe, the side walls, and even the door. We have yet to talk about the importance of using every inch within your small wardrobe. Assuming your small wardrobe means you don't have a massive walk-in, we suggest using the floor space wisely. If you haven't installed a wheeled cart or a chest of drawers within the wardrobeor a shoe rack, then you should have space to lay out the shoes that you use most often.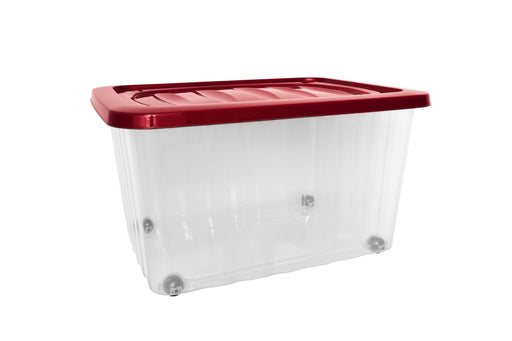 Keeping your favourite shoes and slippers right where you need them is also convenient. You don't have to go roving for a cubby or bin space. Just be sure to put a basket on the floor or some kind of tray. Otherwise, the floor may get dirty from whatever you track in.
13. Avoid Poor Designs
Have you ever seen a wardrobe where the curtain rail bends into the corner with a sharp 90 degree turn in the corner of the wardrobe? This often happens with walk-in wardrobe, as it's supposed to maximise rail space. Not only can you do absolutely nothing with the corner, because your clothes will pile up around one another, but you lose a great deal of space. There are all kinds of poor design flaws like this found in wardrobes, flaws that could have been avoided.
The best option for this is to install vertical shelving at the corners, shortening the length of the rods, and adding more storage space. Make the shelving adjustable, too.
Other design issues include:
Too dark shelving
Dead space on the top shelf or at the back of the wardrobe
Shelves are too shallow to hold anything
Not only should you attempt to remedy these issues, because it will free up more room, but you should also avoid them when redesigning your small wardrobe. Make sure you have plenty of lighting, use pegboards on the back wall to avoid dead space, and make sure your shelving is appropriately sized. If you cannot add shelving without cutting out too much space, then you should consider a DIY solution, like a smaller bookshelf that is lined with storage boxes and bins.
Why Make Space in Your Cramped Wardrobe?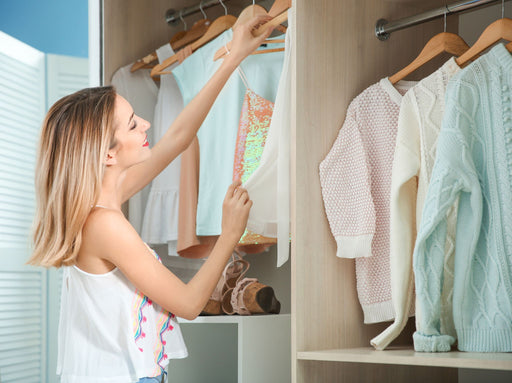 Living with limited space is no fun, and you might feel like you are living more in a box if the clutter gets too unruly. The best solution is to organise your small wardrobe and get things under control. Now that you have read the storage ideas for cramped wardrobe, you shouldn't wait to put some of the methods to the test.
Every tip is easy to do and will transform your small, overfilled wardrobe into a space that you can proudly show off. Best of all, the small wardrobe hacks are budget- and DIY-friendly. You can customise any of the storage ideas for small wardrobes to suit your needs, whether you rent or own your space. Just make sure you have measured your wardrobe and purchase items that are going to fit!
 For more wardrobe organisation tips, check out our blogs:
About MothPrevention®
MothPrevention® speak to customers every day about their clothes moth issues - clothes moths are a species that are ever increasing and that can cause significant damage to clothes, carpets and other home textiles.
To date, we've helped over 125,000 customers deal with their moth problems. We have developed professional grade solutions including proprietary pheromones, not available from anybody else in the UK, and engineered in Germany to the highest production standards.
About MothPrevention®
MothPrevention® speak to customers every day about their clothes moth issues - clothes moths are a species that are ever increasing and that can cause significant damage to clothes, carpets and other home textiles.
To date, we've helped over 150,000 customers deal with their moth problems. We have developed professional grade solutions including proprietary pheromones engineered in Germany to the highest production standards.