Top Food Pantry Organization Tips For Any Sized Kitchen
Do you find yourself wistfully staring at those Pinterest images of colour coordinated kitchen pantry shelves, wishing that your own kitchen cupboards could come together so cleanly? Dreaming of a perfectly organised pantry but don't know where to begin? With so much stuff in your kitchen, figuring out how to organise a pantry might feel like a monumental undertaking, especially when you have a million other things to worry about. 
But we believe in you. In fact, you too can have a pantry organisation system that looks like The Home Edit have visited and done their magic! Following these realistic food pantry organisation tips and your visitors are sure to have "pantry envy" (We can assure you, it's very real).
Clean, Measure and Line the Shelves
Before planning anything, it is extremely important that you take stock of what is already available in your pantry. Clean out the entire area. Discard any items that are past the expiration date (we all have those skeletons in the pantry), and donate any unopened, non-perishable items that are still good that you won't be using any time soon.
From there, wipe everything down with some white vinegar diluted with water. This will kill any bacteria and kitchen cupboard pest eggs that may be hiding out on the shelves. Also look for any signs of vermin, since you'll want to oust them before organising kitchen cupboards and pantry shelves.
This is the time for a clean and fresh start - so don't hold back on the cleaning phase.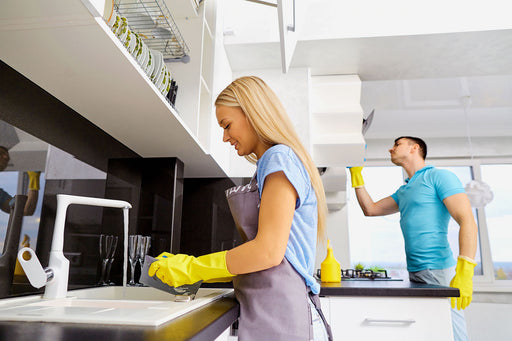 Now with the shelves sparkling clean, measure the depth of the shelving and the space between them. Knowing the measurements will help you understand how you can organise your kitchen pantry.

Pull-out storage containers are absolutely fantastic for keeping your freshly organised kitchen cupboards in pristine order. Retro fitting standard sized containers and baskets into your existing cupboards can be a bit tricky so be doubly sure of those measurements before going overboard on purchasing a whole kitchen worth of brand new containers.
TOP TIP: If you know which brand manufactured your kitchen, contact them to see if they offer a set of storage containers purpose built and perfectly sized for your cupboards.
Lastly, line the shelves. Should anything spill, the lining makes it much, much easier to clean up the mess. But also be aware that these liners can be a great place for pests such as food moths to lay their eggs. So if you use shelf liners, have a cleaning regime - it's not "set and forget" with shelf liners unfortunately - but a maintenance regime is always going to be essential to keeping your pantry in tip top shape.
Make Everything Functional
Hopefully, when you cleaned and de-cluttered everything, you were inspired about how you could use the space. Maybe you plan on storing appliances in the pantry and cupboards? Are there other things aside from food that need to be organised, like linens, tote bags, aluminium foil, and so on? What about cleaning supplies?
You want to determine the function of each part of the kitchen pantry, because that will help you figure out what kind of storage you need and how much space each section is going to take up.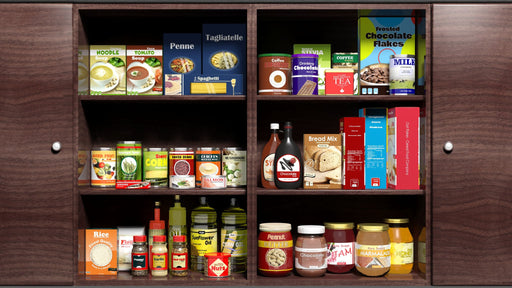 Section Out Zones
Continuing off of the above tip, you want to make "zones." We are not just talking about veggies in one place and your dry baking ingredients in another. If you have cans, jars, snacks, towels, bags, and everything else crammed into the pantry, it's going to become a chaotic mess in no time. So, you need to section out areas within the pantry and maintain those zones in order to stay organised.
Here are some kitchen pantry storage ideas to make organising even easier:
Put bulky and heavy items along the bottom shelves and on the floor
Keep frequently used items at eye level, so you always know where they are
If you have children, keep their things at a kid-friendly level
Rolling bins on the floor are great
A step stool will help you reach the loftiest shelves, where unused storage containers, foils, parchment paper, and cleaning items can be stored
Items with a long shelf life can also be placed on higher shelves
Use Those Doors
Looking for extra pantry storage? Don't forget about the backs of doors! There are wonderful options out there, like over the door hanging baskets, mountable racks, hooks, and more. Back-of-the-door organisers are best for smaller, less heavy items, like boxes of rubbish bags, oils, baby food jars, small canned items, spices, teas, bottled water and the like.
Since door organisers come in various sizes, you can even find some that fit on the backs of cupboard doors, like the ones under the kitchen sink. You will be able to make more room for cleaning supplies and more.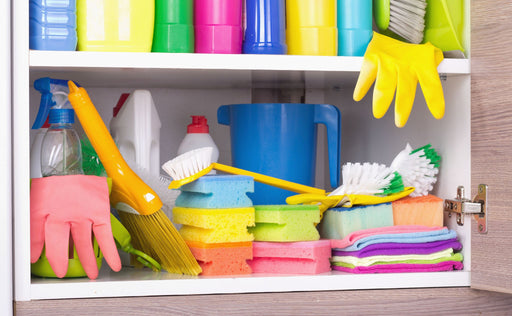 Use Storage Containers Wisely
Ah, containers and storage boxes—the unsung heroes of pantry organisation. You see them in every flawlessly designed pantry: the clear glass jars, the rows upon rows of labelled clear pantry bins and canisters, and the accompanying baskets and trays. If making your kitchen pantry look like a picture perfect show home is your aspiration, this part of the process is one you may well enjoy the most!
Removing packaging and pouring your dried grains, flours, coffee, tea sachets, fruits, nuts and seeds, and pasta into clear pantry storage containers is one of the best ways to organise a kitchen. With uniform shapes and sizes, the containers can help you make the absolute most of the space - unlike the original food packaging. Plus, those glass or airtight plastic jars keep food pests at bay.
Not only that, but using storage containers and pull out baskets really helps you keep the discipline between storage "zones" of produce - helping your kitchen stay organised for longer without needing to completely overhaul and start again.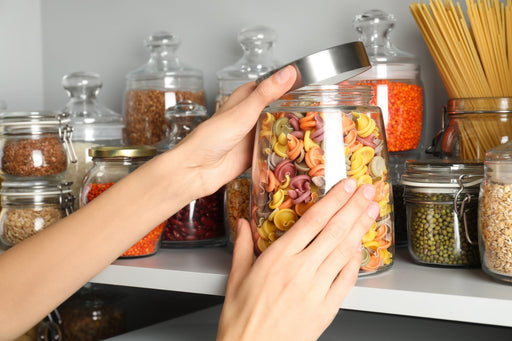 Put Labels Everywhere
After setting up the pantry containers, label them. It might seem laborious writing out all those labels, but it will be worth it. After all, you don't want to set salt next to sugar and forget which is which!
Don't get too specific with your label naming convention, this gives you flexibility to accommodate changes in your weekly grocery shop without needing to relabel everything. Simply label the bins or shelves "snacks" or "biscuits" or something more general. At least then you can still keep your zoning and know where your essentials will usually be located.
Don't stop at the containers and baskets either. Put some labels on the rubbish and recycling bins as well. This will prevent any guests—and children—from making a mistake.

Two Words: Pull-Out Shelving
When looking up at cans and jars on the kitchen cupboard shelves, most of them look alike. That means you're going to be rifling through nearly identical cans for several minutes before finding what you want. This also typically leads to complete disruption of your newly organised cupboards with cans and jars now strewn all over the kitchen side.
Let's avoid undoing all that hard work shall we?
Instead, remember our "zoning" tip and partner those categories (sauces, soups, canned vegetables, etc.) with some pull-out shelving. Easy to install, you can place pull-out shelving under existing shelves, adding more space and making it much easier to find exactly what you need.
If it's easy to find, it's easy to keep in its place! 
Turn The Tables
Also known as a Lazy Susan, a turntable can increase shelf space while allowing quick access to dozens of separate containers and baskets.
If you find that you are having difficulty keeping everything visible, a turntable provides that needed flexibility. You can also put turntables in the refrigerator for condiments, soda cans, or other small things you tend to stock up on, like yogurt, juice boxes, snack packs, and so on.
If you're tackling tight spaces or corner cupboards this approach can be a great way to make you feel like you've just doubled your pantry storage space!
Your Kitchen Cupboard Organisation Process Recap:
Clean and measure your space
Think about and define the functions you require
Define your "Zones"
Add storage area without adding cupboards by making use of doors
Use containers to maximise use of storage space
Label everything clearly
Use pull out shelving to minimise storage disruption
Get creative with corner spaces and cramped cupboards with turntables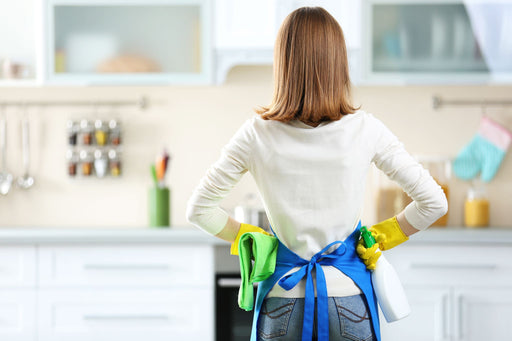 Final Thoughts
The kitchen is often the soul of a home. It's where you cook, gather, entertain, laugh, and rove for midnight snacks. That's why it should be a space you enjoy spending time in and doesn't bring on fits of frustration and anxiety over crazily disorganised chaos hidden behind those cupboard doors.
With these pantry organisation tips at hand, you're armed to take on the challenge and conquer your kitchen organisation goals. Commit to the process and maintain the standard for just a few months and you'll have friends swooning over your picture perfect pantry.
About MothPrevention®
MothPrevention® speak to customers every day about their clothes moth issues - clothes moths are a species that are ever increasing and that can cause significant damage to clothes, carpets and other home textiles.
To date, we've helped over 125,000 customers deal with their moth problems. We have developed professional grade solutions including proprietary pheromones, not available from anybody else in the UK, and engineered in Germany to the highest production standards.
About MothPrevention®
MothPrevention® speak to customers every day about their clothes moth issues - clothes moths are a species that are ever increasing and that can cause significant damage to clothes, carpets and other home textiles.
To date, we've helped over 150,000 customers deal with their moth problems. We have developed professional grade solutions including proprietary pheromones engineered in Germany to the highest production standards.